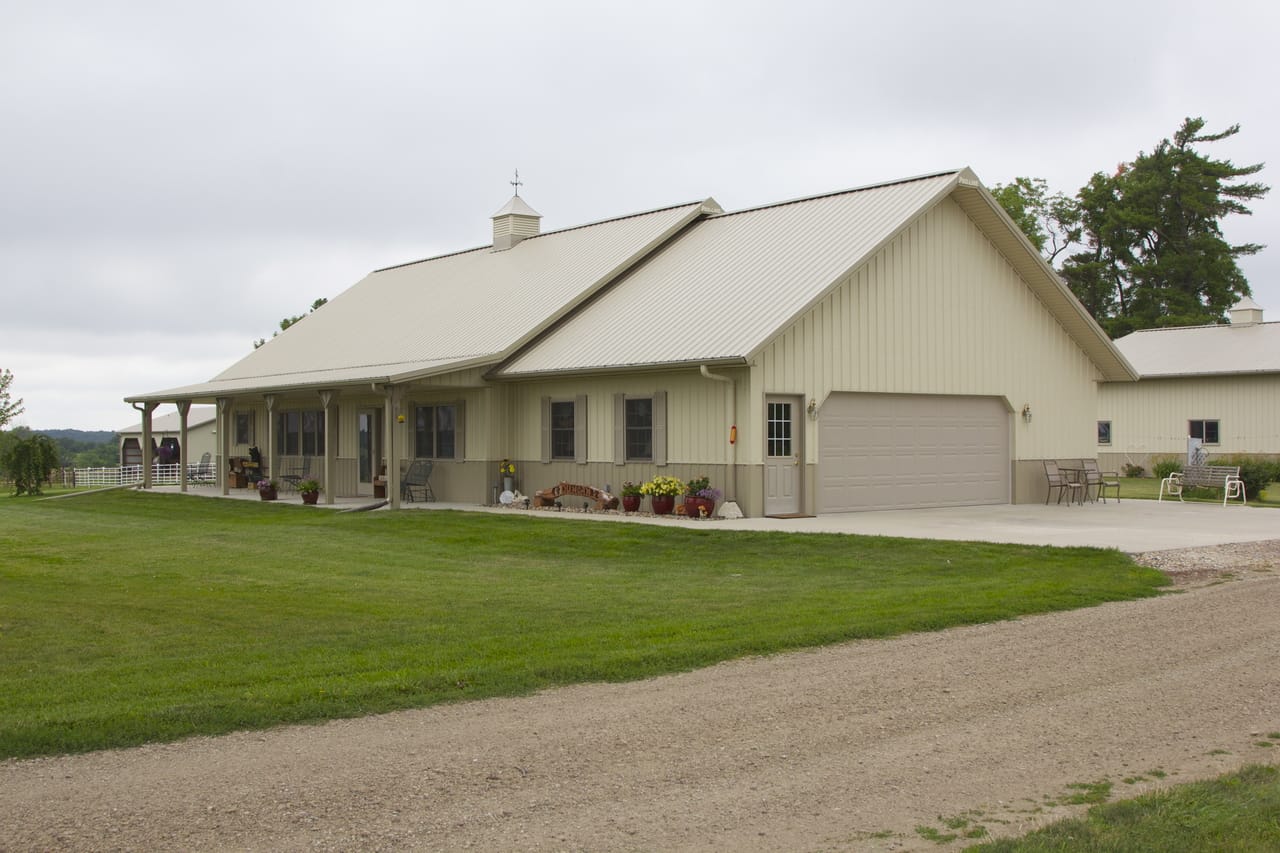 Post-frame buildings offer a versatility that few other construction types can match, making them ideal for a wide range of uses. While post-frame buildings are common on farms and industrial worksites, they can also provide many different uses for non-rural families and small businesses. This article explores five of the dozens of creative uses for post-frame buildings.
Man Caves & She Sheds
Many types of spaces, such as garages, home theaters, woodworking shops, lounges, and hobby buildings, need significant extra square footage. Post-frame buildings can offer that extra space, giving you the versatility to accommodate any hobby. If you're building a new home, you can even make your man cave or she shed part of the home, since post-frame construction can accommodate the structural requirements of both homes and workshops.
School Buildings
Schools frequently need to expand their campuses, whether by adding more storage space, recreational facilities, cafeterias, or even an auditorium. With tight budgets, educators often have to make do with less. Post-frame buildings, however, offer a durable, cost-effective alternative to keep students happy and comfortable. For example, a post-frame building could serve as a gymnasium, cafeteria, and an auditorium. These multi-purpose buildings can unlock countless opportunities for educators and students. With the ability to take on any external finish, post-frame buildings can complement the school's architectural style with low maintenance costs.
Businesses
Post frame buildings can accommodate different kinds of businesses with different space requirements, ranging from large warehouses for company equipment to cozy retail storefronts. For example, businesses that rely on a large number of automobiles and construction equipment need large storage spaces, especially when the business and its fleet are rapidly expanding. Post-frame buildings not only offer the required space but also the insulation, ventilation, and structural stability to protect even the most delicate machinery. Given a post-frame building's energy efficiency, low maintenance costs, and quick construction, it's the perfect fit for a cost-conscious business.
A post-frame construction can also be the perfect fit for a new strip mall. With brick on the front and sides and metal on the back, the building's exterior can be practically maintenance free. Additionally, post-frame construction easily accommodates storefront windows and porch-style awnings, making it ideal for busy stores. With its quick construction, strong curb appeal, low maintenance needs, and efficient cost, tenants and customers alike will praise the building's addition to the community and its economy.
Homes
Sometimes, cookie-cutter homes just don't fit. Luckily, post frame buildings can accommodate almost any home style. A family who needs extra storage or activity space or simply wants a distinctive home style can design their own home more affordably using post-frame construction.
Post-frame buildings offer better insulation than traditional construction because in traditional buildings, studs interrupt the insulation every 16 or 24 inches. Studs in post-frame buildings, on the other hand, can be spaced 6–8 feet or more, providing much more wall cavity space for insulation. As a result, post-frame buildings can be built to be more energy efficient. With the flexibility to accommodate a wide range of design choices, a post-frame building could be the cost-effective, low-maintenance custom home of your dreams.
The building experts at Pro-Line have already worked on a variety of home projects, including the following three in Milo, Iowa (also pictured above):
36' x 36' x 10' horse barn
48' x 60' x 12' shop/storage
44' x 50' x 9' living area with a 32' x 24' x 9 attached garage
Weddings and Events Space
With capacity for expansive spaces and versatile uses, post-frame buildings can make great event locations for weddings, concerts, speakers, and more.
Make Your Vision Real
A dream home, work space, or hobby building is often more in reach than many people realize. The construction professionals at Pro-Line will work with you from the very beginning, from dreaming about options through breaking ground to adding the final touches to your vision. Employing only certified construction workers, Pro-Line ensures that your new building is sturdily constructed and designed to last. Check out our project photo gallery, and contact Pro-Line today to learn more about how you can get started creating your dream building.