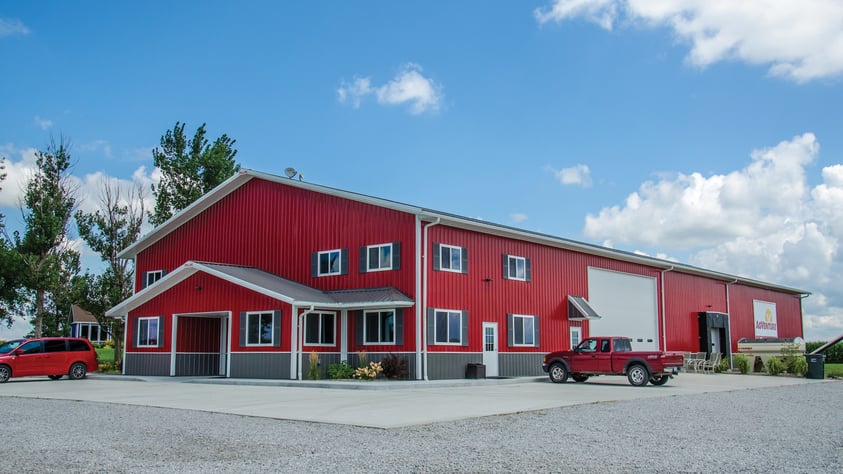 Our approach to the building process really comes down to two things: needs and solutions. We believe the best way to serve our clients is to identify their needs and then find the perfect solution.
More than simply a resource for materials and manpower, we aim to be your building expert. Jim Vanderbeek, owner of Pro-Line from 1992–2017, discusses our approach to buildings.
Our Philosophy
Pro-Line's philosophy is to build for the future. If you build with only the present in mind, you're going to be building again in a couple of years. One of the biggest mistakes a business can make is to invest in erecting a building they'll grow out of within five years. We also believe that allowing a business to outgrow one of our buildings is a disservice to them; if we're back within five years to build a replacement, we haven't done our job.
We know how big an investment a new building can be, so it only makes sense to plan for the future. We aim to create buildings that will serve our clients for the next 50 years. We feel that the only way to provide our clients the best deal is to recommend the building they need—not the cheapest one they can get.
It's Not About the Numbers
Our focus isn't on producing the cheapest proposal for our clients; it's on meeting their needs. Too often, the main focus is on delivering the cheapest quote. While we could build the cheapest building, chances are it wouldn't be the one you actually need, and it won't serve you very far down the road.
Often, investing just a little more up front can you get the top-of-the-line building you really need. If your lowest construction bid is for $90,000, for example, and Pro-Line's is $100,000, we guarantee this additional $10,000 will make an important difference in the value you get out of your project.
Broad Spectrum of Buildings
Wondering if Pro-Line can handle your project? Whether you want to build a home or commercial facility, our team is equipped to handle your project—no matter how large or small. From farm storage buildings to shop buildings, we've got you covered.
Pro-Line won't come at you with an aggressive sales pitch. Once we identify your building needs, our team works to find the best possible solution and deliver it.
If Pro-Line's outlook on the building process appeals to you, contact us today to get the discussion started! Our team is ready to work with you and determine if we're the right fit for your next building project in Iowa.