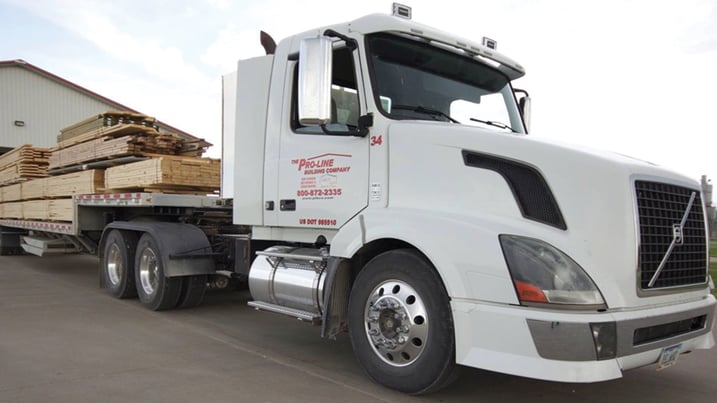 Why Pro-Line? Simply put, we pride ourselves on creating high quality buildings designed to fit our clients' individual needs. What sets Pro-Line apart from our competitors is our solution-based, customer-centric process, top-of-the-line materials, and an experienced team.
In our past couple of blog posts, Jim Vanderbeek, owner of Pro-Line for 25 years, has given you a peek at our building approach and sales process. In today's blog post, Jim discusses what makes Pro-Line top of the line.
The Process
Our building process begins with us working together to determine what you really need your building to do for you. Once we've identified that, the Pro-Line team works together to find the best possible solution.
Our goal isn't to sell you the cheapest building; we set out to identify what you need from your building and how we can best get you there. We encourage our clients to build for the future, so they only have to build once. If you aren't considering what your situation could be down the road and only building for right now, you're limiting yourself and your organization's potential growth. We set out to create a building that will fill your needs now and for the next 50 years.
Our personalized design-build process and dedication to delivering the building that will best serve your needs is what makes us different. As your building experts and solution source, we believe our most important job is to make recommendations about aspects of your building that may not even be on your radar.
The Materials
Pro-Line uses top-of-the-line materials for all of our buildings. Our trusted building materials include no. 1 southern yellow pine wall columns, wall girts, and roof purlins. Top of the line roofing and siding that is 82,000 psi tensile strength grade E steel. Other items such as fasteners, hardware, window, and door packages are the highest rated in the industry. By choosing Pro-Line, you will get the best material package available.
We believe the best "deal" we can give our clients is to suggest using quality materials and resources that will serve them for many years. To ensure our buildings consistently meet high quality standards, we trust proven materials that provide outstanding structural stability and weather protection—ensuring your building will last.
The Team
Our Pro-Line team experienced. You will work with the same group of people from start to finish on your project, ensuring you know everyone who is involved in your building process.
Our team will work with you through every step of the way, from initial design through permitting and inspections to handing you the keys. Our team allows us to truly be a one-stop shop and your expert for every aspect of the building process.
If you're looking for a building partner with an experienced team of experts who use top-of-the-line materials that's going to work alongside of you during every phase of the process and find you the solutions that you need, Pro-Line is the partner for you in Iowa. Contact us today.