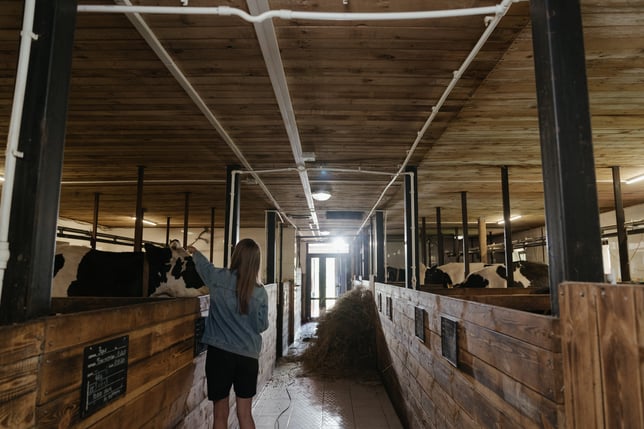 If you're designing a cattle barn, it's important to know where to start. There are many features to cattle barns that should be considered before a design can be constructed, but the main consideration should be the health and safety of your cattle. We've got tips for how to design a barn that is quality and healthy.
Key Components and Features to Consider
The key components to a quality and healthy cattle barn are simply that they shelter from extreme weather, provide a steady supply of fresh air, and are dry. Regardless of the extent or purpose of your cattle facility, those three components should always be present. Well designed barns provide the space that cows need to rest for their typical 10 to 14 hours a day while minimizing injury and improving cleanliness. While an open pasture is the healthiest place for cattle, all cows need shelter from harsh elements at times.
Size
Agriculture experts estimate that a cow weighing 1300–1500 pounds will need approximately a 4' x 9' space to comfortably rise, recline and rest. This is because cows thrust their bodies forward as they rise or lie down; stalls must have adequate room for your largest cow to easily recline. Consider the current size of your herd as well as any planned expansions when deciding on the size of your barn.
Ventilation and Air Flow
Fresh air is essential to keeping cattle healthy. Cattle generate heat and gases that can quickly become deadly if contained indoors. When urine and manure combine with heat and noxious gases, cows become susceptible to respiratory disease. Constant air flow will help prevent this. You can do this by leaving walls open on your structure. This provides protection from harsh weather while giving your cattle access to plenty of fresh air. A ventilation system with fans can also help ensure ample airflow.
Dry Footing
Foot problems are common among livestock, and dry footing is an essential prevention measure. Your barn's location can make it easier or more difficult to maintain dry footing inside. A high, dry location with proper drainage is ideal.
Expansion Capabilities
Anytime you're designing a new building, it's important to keep the future in mind. If you have dreams to expand your farm, make sure your barn's design prepares you to do that. Your future plans may affect where you locate the barn and the amenities you include.
The Right Construction Partner
Your barn should be designed to fit your unique operation and protect the safety and health of your herd. The right construction partner will help you create a design that meets all your operation's needs. Pro-Line is experienced at designing and building agricultural structures. Learn more building design tips on our blog.