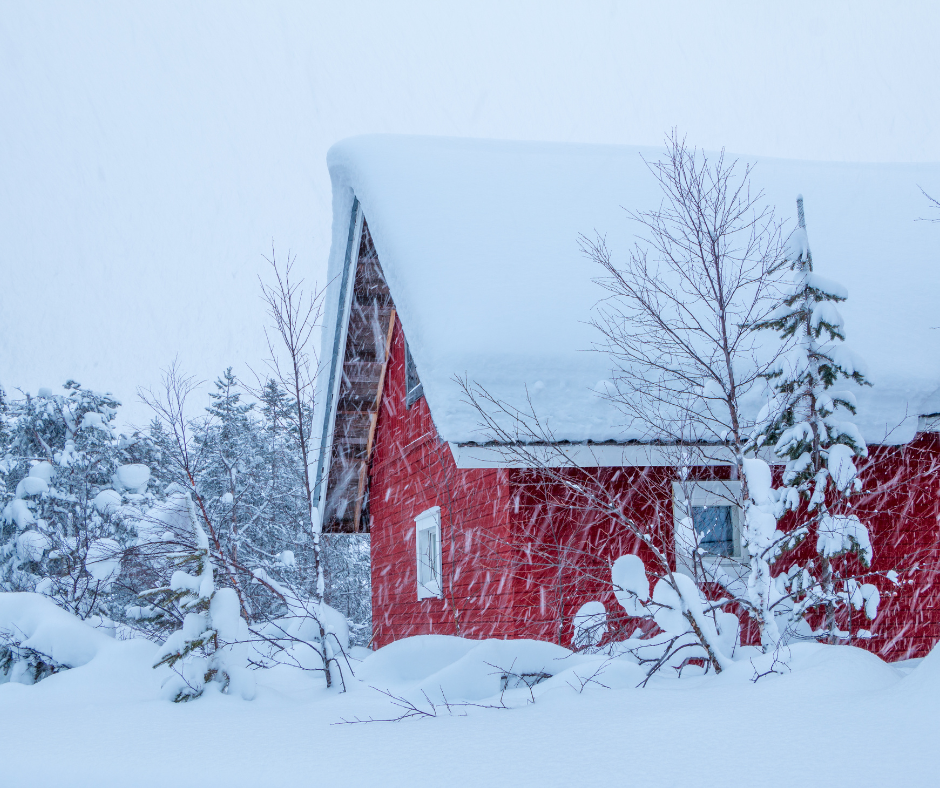 Starting a new custom pole building construction project can be exciting, especially if it means you are finally building your dream home or expanding your agriculture operation. However, before diving too far into the building process, there are a few important things to consider. In Iowa, our temperamental climate, which often features extremely cold winters, humid and hot summers, and wild weather events needs to be considered in addition to state and local regulations when planning the construction of your pole building. These factors will impact the design of your building and the types of materials that will best suit your needs.
Cold Weather
Your new pole building will need protection from the brutal cold that comes with Iowa winters. A little preparation and research can help ensure a long lifespan for your new pole barn. A few things to consider include preventing ice dams, managing snow loads, and conducting preventive maintenance.
Ice Dams
Ice dams occur when snow on a building's roof begins to melt and then refreezes along the roof's margins. This buildup can seep under the shingles, causing serious leaks and water damage. During the construction process, it is important to make sure the entire roof will stay cold enough in winter to prevent ice dams from occurring. Attic bypasses, insulation, and roof vents help keep the roof a consistent temperature.
Snow Load
Pay special attention to building codes that speak to how much snow your building can withstand. Snow can become incredibly heavy as it accumulates, so it is very important to design the pole barn with the proper purlins, trusses, truss carriers, posts, footers, and drainage system. All of these elements should be utilized strategically to increase the barn's durability and stability during heavy snowfall.
Preventive Maintenance
Once your building is complete, it is crucial to conduct ongoing preventive maintenance. This is the best way to protect any building. Small issues like water leaks, siding dents, or unsealed windows can turn into serious structural damage. This is not a problem you want to face in the dead of winter!
Warm Weather
While the Iowa State Fair is a treasure, the hot weather that accompanies it is not always kind. Whether you plan to use your new pole barn to house livestock, store vehicles or other machinery, or even as a home, it is important to protect it from the humidity and heat of an Iowa summer, inside and out.
Location
Start by choosing the right location for your building. Select a site that gets a breeze, or build by trees for natural shade. Since cool air can escape through walls by conduction, insulation should be added to the walls during construction. Fiberglass is affordable and the most common insulation material. Sprayed polyurethane foam is another option, but keep in mind that it can be corrosive, so it is not a wise choice if you are installing steel siding.
Ventilation
Ventilation is crucial to keeping a building cool. Depending on the purpose of the pole barn, you can choose to naturally ventilate it by strategically locating vents or choose a mechanical ventilation system that uses fans to control air flow.
Choosing the best windows and doors for your pole building can also go a long way in keeping the building cool in extreme heat. Multi-paned windows placed on the east and west sides of the building are best for energy efficiency and heat reduction.
Extreme Weather Events
Tornadoes have always been a concern for Iowans, and after 2020, we know to add derechos to that list. High winds can be risky for any building, but by following the correct local building codes, you can help your new building withstand severe storms. A pole building is created by anchoring posts into the ground. To help the building withstand high winds, these posts can be dug even further than the standard four to six feet, providing extra stability. The roof, however, is arguably the most important component to protect from wind.
During a high wind event like a tornado or derecho, a building's roof is often one of the first things to fly, since the wind can push on it from both inside and outside as it swirls around the building. Roof trusses can be attached directly to columns that are embedded in the ground with steel brackets and bolts. Designing the roof with gables in multiple directions will improve its stability in high winds.
Local Regulations
While pole barns have been used on farms and other agricultural operations for a long time, pole building homes are more recent. The trend is gaining popularity, but it is new enough that the county you live in may not have updated protocols or regulations to accommodate a building like this. If the zoning laws allow a pole building constructed by a professional builder like Pro-Line, they may not allow you to use a pole barn kit.
Be sure to go through all the proper channels before you begin the building process. A professional builder will be familiar with all local regulations and can secure the needed permits for your project. Choosing a trustworthy and experienced construction company will help you achieve a safe, efficient, and long-lasting structure that fits your needs.
For more advice on pole building construction, subscribe to our blog today!