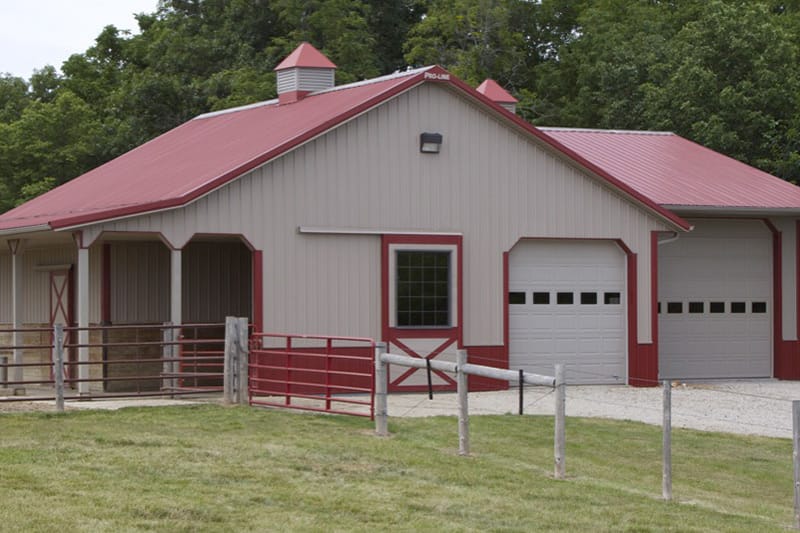 A pole building, which is built using post-frame construction, is a cost-effective structure that does not require a foundation. This makes pole buildings incredibly versatile and easy to use for any purpose, including expanding your agricultural operation or building a new home or commercial office.
There are two main ways to construct a pole building. You can order a pole barn kit from a reputable supplier, or you can hire an experienced construction company that specializes in pole buildings. Which you should choose depends on your skillset and the amount of time and money you're willing and able to spend.
Pole Barn Kits
Benefits of a Kit
Pole barn kits have been increasing in popularity in recent years and can be ordered from many major home improvement stores. The kits contain pre-packaged materials for the project you're building, so you only need to supply the tools and the labor.
Pole barn kits are considered DIY projects, making them a good choice for those who have experience in construction and can follow instructions to the letter. Since you provide the labor and tools yourself, choosing a pole barn kit over a custom building could save you a lot of money.
Downsides of a Kit
Before you decide to purchase a pole barn kit, it's important to think about the time and effort it will take to construct the building. Do you have time after a long day at work or on weekends that are already filled with activities? Do you have helpers for tasks like hanging trusses and installing siding? It is important to have the answers to these questions before you order the kit.
Building materials are another consideration. While pole barn kits aren't as costly as hiring a builder to complete your project, kits may include lower-quality materials than those you would choose for a custom building. Low-quality materials may not stand the test of time, which can cause you to spend more money on repairs than you would have with a custom building.
Custom Pole Building
Benefits of a Custom Building
When you choose a professional contractor to create your pole building, you can work with your builder to select high-quality building materials, which can extend the lifespan of your new building. A custom build also allows you to incorporate desirable features that kits may not include. Because the work is done by experienced construction crews, you can be confident that the build will be done right and on time.
Downsides of a Custom Build
A custom build is, naturally, more expensive than using a pole barn kit. You will need to pay for all the materials and labor the crew needs to complete the project. Depending on your builder's schedule and the availability of your desired materials, a custom build could also take longer to complete than a kit—especially if it's a busy time of year for construction.
Unless you're a confident builder and aren't picky about your building materials, choosing a trusted professional builder to construct your pole barn is probably your best bet. It's the surest way to get a sound structure that fits your needs and stands the test of time.
For more information on post-frame construction, subscribe to our blog today.