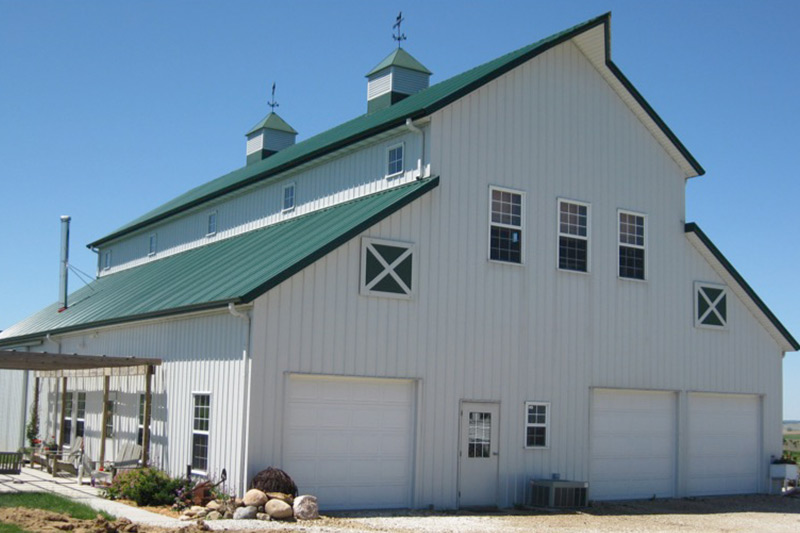 If you've been searching for a cost-effective way to expand your agriculture operation, a pole barn may be the right solution. Pole barns are inexpensive to construct and very versatile, making them the perfect choice for more storage for your equipment and machinery, horse and cattle barns and other livestock housing, workshops, and more.
What Is a Pole Barn?
A pole barn is a simple building with a wooden frame that doesn't require a foundation. Instead, posts are anchored four to six feet into the ground to provide stability. This allows for a quicker and more cost-effective construction process, which could mean a faster return on your investment.
There are many benefits to using this type of construction. They are incredibly versatile, durable, and energy-efficient. In addition to storage, these buildings can be used as garden sheds, hobby shops, garages, or even as a "shouse"—a style of spacious custom home with a shop space built in.
The Building Process
If you're interested in adding a pole barn to your agriculture operation, the first step is to choose a reputable builder who is experienced in post-frame construction. A professional builder will help you design a pole barn specifically for your needs, obtain the correct permits, give you estimates for cost and construction time, and provide any other details needed before construction begins.
During this initial phase, you'll work with your builder to finalize the design, including elements like floor elevations, the locations and dimensions of doorways and windows, and storage capacity. You'll also compile a list of materials so everything can be ordered and delivered to the worksite in a timely manner.
Once you've chosen a builder, collaborated on the design, and obtained all the necessary permits and materials, your construction team will ensure that the ground is level and all vegetation is cleared away around the perimeter of the new building. Once the site is properly inspected and given the green light, your builder will begin construction of your new building.
Constructing a Pole Barn
The first thing your chosen builder will do is set the poles at the proper depth in the ground and pour cement around them to anchor and stabilize. This acts as the foundation of the building, and it's important this part of the process is done correctly.
Then, the poles will need to be notched for the trusses at the correct height. The trusses are then fastened to columns and braced to frame the roof, and purlins are installed from the eave of the roof toward the peak.
Next, wall insulation or a reflective roof is installed to keep your new building safe from condensation. Walls are framed depending on the design of the pole barn, then the trims and wall steel are installed next. The last things to typically go up are the doors and windows, and your new pole barn is finished!
To get the right pole barn for your operation, it's crucial to partner with the right construction company. Pro-Line was founded to serve rural Iowans and has the experience to design and build the perfect agricultural building for your needs.
For more building design tips and advice, subscribe to our blog.