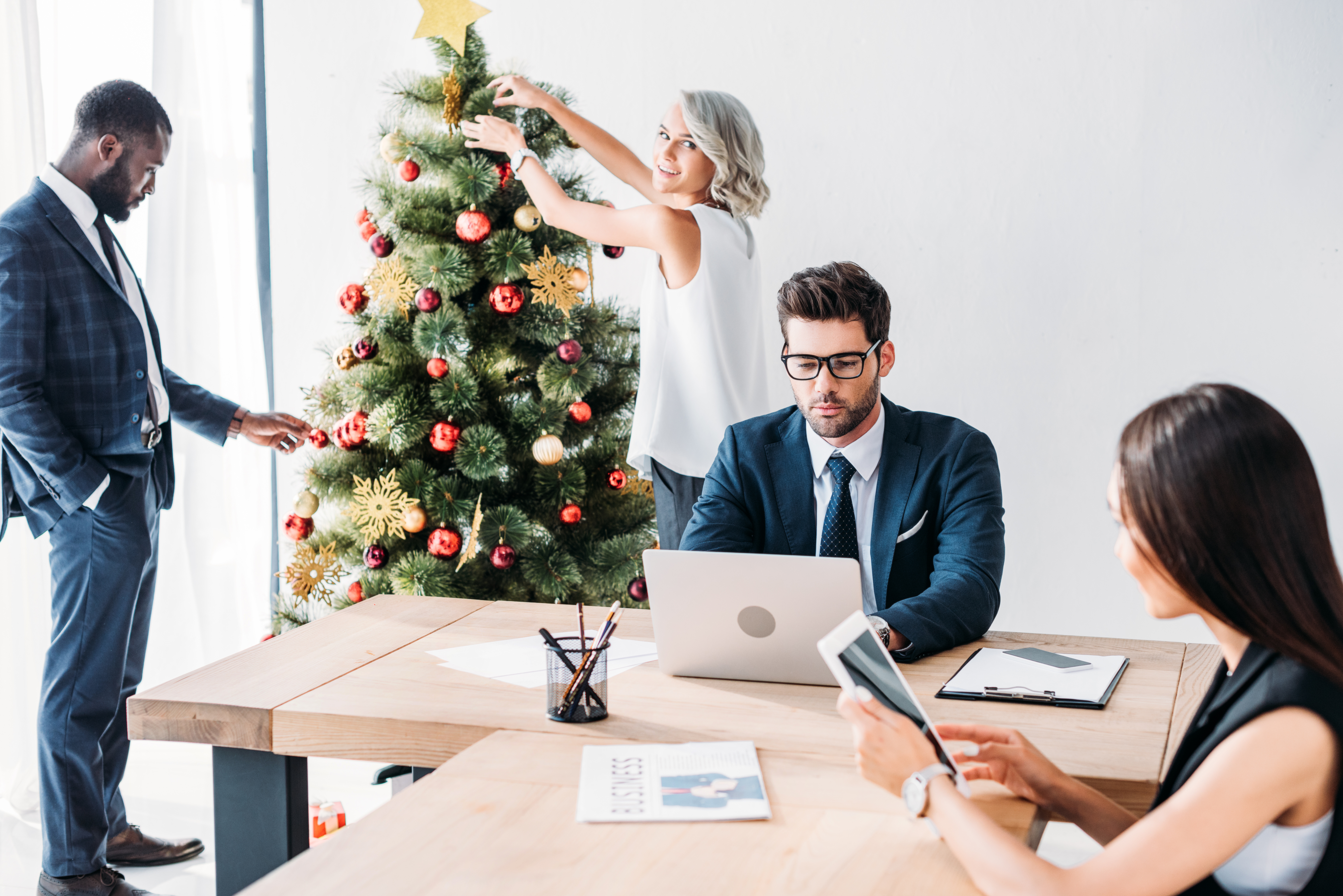 We could all use a little more holiday cheer this year. Today, we're talking about holiday décor and how to spruce up your office space for the holidays.
The following themes, tips, and holiday office decoration ideas are perfect for any business on a budget. So, flip on the radio for some quality time with Delilah, or pull up your favorite holiday playlist. It's time to get decorating!
Tips for Decorating Your Office for the Holidays
Creative Holiday Themes
Whether you have an open floor plan, cubicles, or separate office spaces, choosing a theme will help you create a cohesive look and feel. It also gives everyone involved some decorating direction. Here are some overarching theme ideas to get your creativity flowing.
Traditional: Bring out the red and gold ribbons and Christmas tree ornaments. Set up a tree and other greenery around the office and adorn with twinkling lights for a classic holiday feel.
White Christmas: If you want an authentic winter look, you can buy a white tree or a green tree with a frosted look. Another solution is decorating your tree with white décor. Add white pinecones, ornaments, and cotton around the office to make it look like winter.
Winter Wonderland: Grab the team for a snowflake-making competition! You can challenge your office to compete for the best, most ornate, or biggest snowflakes. Then hang them all from the ceiling throughout the office for a magical look.
The North Pole: Grab Santa and his reindeer to dress up the office with holiday cheer. For your Christmas party, you could designate someone to dress up as Santa himself and hand out presents. Consider a gift exchange or white elephant party so everyone in the office only needs to buy one gift. Make sure to put a cap on the spend limit, too.
For Cubicles and Desks
Ready to embellish your personal workspace? Here are some quick, fun ideas to get you started. You can probably find most of this stuff at home, a thrift store, or a dollar store.
Bring in your favorite holiday or winter-inspired candle.
Set out a bowl of candy to share with colleagues.
Drink your coffee and cocoa out of a holiday-themed mug.
Set up miniature Christmas trees, snowmen, Santa and his reindeer, gifts, or baubles.
Hang a wreath or garland on your desk or wall.
String tinsel and garland with LED lights.
Line your computer with garland.
Hang your stocking.
Get cozy by bringing your winter blanket to the office.
Decorate cubicle walls with wrapping paper.
Create paper Santas using construction paper, cotton, and buttons.
Set up your holiday cards to read when you're feeling glum.
For Office Spaces Without Natural Light
Even if your workspace does have natural light, winter days can be short and gloomy. You can lighten up your space with extra holiday lights. Also consider adding more lamps around the office for soft, warm lighting. Bring in a fake fireplace to create a cozy, relaxed ambiance. Light-colored décor, like snowflakes and white ornaments, can also brighten dingy spaces.
Simple, Budget-Friendly DIY Holiday Decoration Ideas
Here are more specific ideas for the tree, the front door, and communal spaces in your office.
Festive Front Doors
Ask everyone in the office to bring in their own stocking, or create simple paper versions to hang across the front office door.

Hang a beautiful Christmas wreath to welcome visitors and enhance curb appeal. If you don't have one, ask the team to make one!

Set up a small table with holiday treats for colleagues and customers to help themselves when they enter the building.

Add a holiday-themed welcome mat from your local dollar store
Tree Decoration Ideas
Candy canes
Pinecones
Baubles
Tinsel
Each colleague's favorite ornament
Garland
Paper snowflakes
Lights
Popcorn strings
Ribbon
Twine
Homemade ornaments
Jingle bells
Painted Mason jar lids
Creative Common Space Ideas
Have someone bring in their old skis, then hang your stockings with care. Host a Secret Santa gift exchange, but have everyone fill someone's stocking instead of wrapping a present.

Add one large Christmas tree or a few small trees throughout the office. Choose a theme like snowflakes, candy canes, traditional red and gold, purple and gold, or silver and blue.

Use garland to create a fake tree on the wall as a budget-friendly alternative. You can even add lights and bulbs to dress it up!

Hang Santa hats from the ceiling or cubicle walls.

Buy inexpensive paper decorations to hang.

Bring in hot cocoa for the office to enjoy during the holiday season—or even once a week.

Have a potluck! Everyone can make their favorite holiday treat, dish, or drink to share.

Use paper holiday drinkware for your morning cup(s) of coffee.

Crank up the holiday tunes!

Hang twinkling lights.

Light some festive candles to make it smell like pine trees, sugar cookies, or a crackling fire.
To decorate your office on a budget, you can have everyone pitch in to help. Throw decorating contests throughout the office using inexpensive materials to build something special. If you want everyone to decorate their own spaces, remember to limit the amount they're allowed to spend!
Take advantage of the dollar store and thrift stores for pricier décor like wreaths and trees. You can even ask people to bring in what they already have lying around at home. Above all, don't be afraid to get creative. Have fun and enjoy the season. Merry Christmas and Happy Holidays!
Pro-Line is here to serve as a resource for your residential or commercial building journey. Subscribe to our blog for regular tips and educational content.