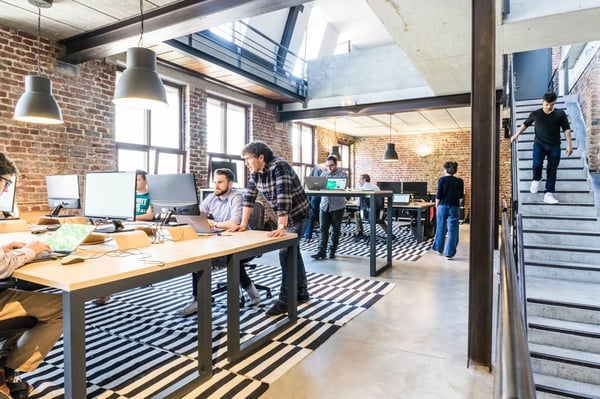 Each small business is unique, which means it can be difficult to find a commercial space that provides everything your business needs to thrive and grow. If you're ready to settle into a location for several years, it might be time to consider building a custom workspace that is specifically designed for the success of your small business. Here are four ways your organization and employees could benefit:
1. Better Productivity and Morale
A recent study by Clutch found that a majority of employees prefer private offices over an open floor plan, although modern office spaces are trending toward the latter. More than a quarter of employees like an open-concept office, however, and when employees need to interact with each other to accomplish tasks, shared workspaces are more efficient. The ability to customize your workspaces means that you can ensure the right mix of private, semi-private, and/or shared spaces to meet the distinct needs of your company and employees. Your employees will be happier and more productive when they have appropriate spaces for quiet concentration and collaborative work as needed.
2. A Place for Everything
If your business has mixed needs, such as production space and a storefront, you might have a hard time finding everything you're looking for under one roof. Designing your own building can be the perfect way to support the diverse activities of your business. A design-build professional can work with you to create a building that's ideally suited to the way you do business.
3. Better ROI Over Time
A detailed analysis conducted by FitSmallBusiness in 2017 found that purchasing commercial real estate cost an average of 86.6% less than leasing for businesses that remain in the same location for fifteen years. When you own your building, you build equity, adding to the value of your business. The commercial real estate price index has more than doubled in the past ten years, providing a healthy boost for business owners who own their own buildings. Furthermore, owning your commercial property qualifies you for additional tax benefits, allowing you to claim depreciation as well as deduct mortgage interest and other expenses such as renovation and maintenance costs. When deciding whether to lease or build, however, keep in mind that leasing is likely to be the more cost-effective option if you plan to stay in a location for less than seven years.
4. Energy-Efficient Building
Designing your own commercial building means you get control over everything—including how you manage its energy usage. You can opt for solar panels, lots of natural light, and systems that help you make optimal use of the energy your building consumes. Ask your design-build professional how you can keep your building's utility costs and environmental impact low.
Getting the Most from Your Custom Commercial Building
Before you decide to build, be sure to carefully consider your organization's needs, its means, and your vision for its future. Research sources of funding such as grants and small business loans to help you attain your goal. A 504 loan from the Small Business Administration, for example, can provide up to 90% financing for a new construction project. Your project might even be eligible for tax incentives.
Be sure to choose the right neighborhood for your business and allow for plenty of room to grow so you can stay in your new building long enough to reap the benefits of long-term occupancy. Any extra space that you have in the beginning can be rented out for an additional revenue stream! Your design-build contractor can help you choose a neighborhood and land that will serve your needs for many years to come.
Pro-Line has been serving Iowa customers since 1992 and has created thousands of buildings for our satisfied customers. We're with our clients every step of the way, available to help with site location, design ideas, securing funding, and making sure everything comes together to make their vision a reality. Subscribe to our blog for more articles about commercial and residential building in Iowa.