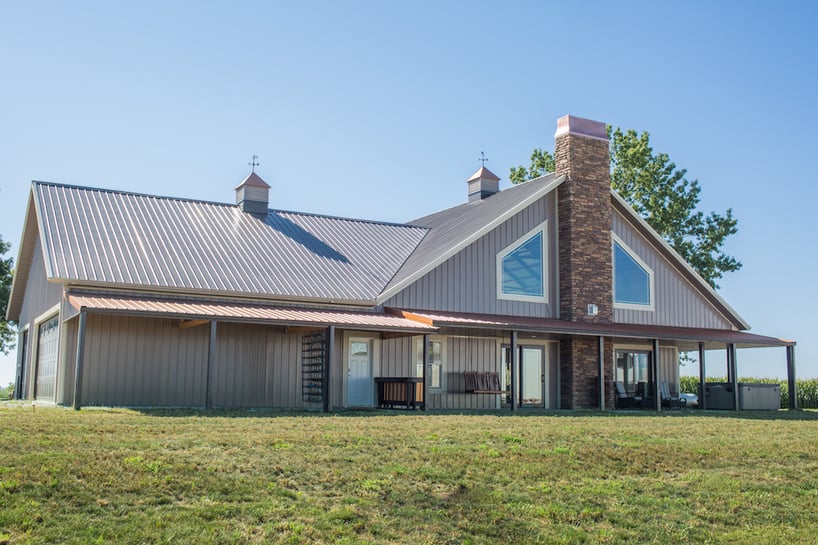 If you're building your dream home as a barndominium (also known as a shouse), this is the perfect opportunity to showcase your personal sense of style while creating a functional and beautiful space. There are many benefits to building a barndominium, but its main draw is combining all of the advantages of a workshop and a home under one roof. There are many decisions to be made during this process, not the least of which is choosing the right windows.
A home's windows do much more than allow daylight to shine in; they can also enhance the functionality of a space. The right window can ventilate, prevent water infiltration, help maintain a comfortable temperature, and even act as an emergency exit if needed. In addition to these important health and safety features, windows can also add beauty to your new home. The type of windows you install will depend on your goals, budget, and unique style as well as your local climate.
Functionality of Barn Windows
Barndominiums have an attractive farmhouse or barn aesthetic. In the past, barn windows were used only for letting in light and fresh air for the health and safety of the livestock housed inside. These windows were usually small and thin and didn't have much of a seal, but they were sufficient to keep the animals dry and safe.
Modern windows are available in a wide variety of styles to serve any purpose, including a barn-style custom home! While they still let in that much-needed sunlight and open to provide fresh air, the right windows can also help keep your energy bills low. Follow these tips for selecting energy-efficient windows:
Choose a window with a well constructed, durable frame. Different frame materials provide different amounts of insulation. Be aware of these differences as you make your selection.

Select windows with multiple planes of glass to help prevent heat transfer as well as assist in sound proofing.

Look for windows with the ENERGY STAR label. This EPA-run certification program is designed to help consumers find energy-saving products.

Add weatherstripping for and even more energy-efficient home. This (usually plastic) material goes along the edges of the window to create a tight seal, keeping drafts and water outside where they belong.
Aesthetics of Barn Windows
The windows you choose can dramatically impact the look and feel of your home. The most common window styles for pole barns and barndominiums are sliding, single-hung, double-hung, and picture windows, but your choices are limitless.
Sliding windows are the most common type installed in pole barns. One glass pane is fixed in place while one or more other panes glide horizontally on a track to open.

Single-and double-hung windows are a classic choice. Single-hung windows use a fixed top sash, with the bottom opening vertically over top. In a double-hung window, both sashes glide up and down to open from the top, bottom, or both.

Picture windows are beautiful, if less functional. Available in a variety of shapes and sizes, picture windows don't open, but they let in tons of natural light and provide a more expansive view of the outside. A picture window can add curb appeal and a sense of elegance to your new home.

Consider less common architectural shapes, like round, triangle, or gothic for a distinctive look.
Installation and Maintenance Tips
All windows, regardless of size or style, need to be installed and maintained properly. The windows must be level and plumb within their openings so they lay flat without any bumps or gaps. Inspect your windows on a regular basis, on the interior and exterior. Look for any signs of damage, like gaps or cracks between the wall and the window frame. Check the seals that hold the glass in place for damage, as well. If there is any sign of moisture or condensation between the window panes, it most likely means the seals are broken and need to be replaced. If there is a small gap and you've ensured the window is level, apply caulking to create a tight seal.
Ensure all locks and latches on your windows are functioning properly for energy efficiency and safety. You should also clean the glass (inside and out) a few times a year—more often if you live in a rural area near gravel or dirt roads. Dirt can damage windows over time, but you don't need a heavy-duty cleaning material. Dish soap mixed with some warm water and a soft cloth will do the job. Clean and lubricate window tracks on a regular basis, first vacuuming any dirt and dust from the tracks.
Consult with your professional construction team to choose the best window style for your new barndominium. Pro-line is an experienced builder of custom homes and barndominiums. Subscribe to our blog for more tips on building a functional and beautiful home!