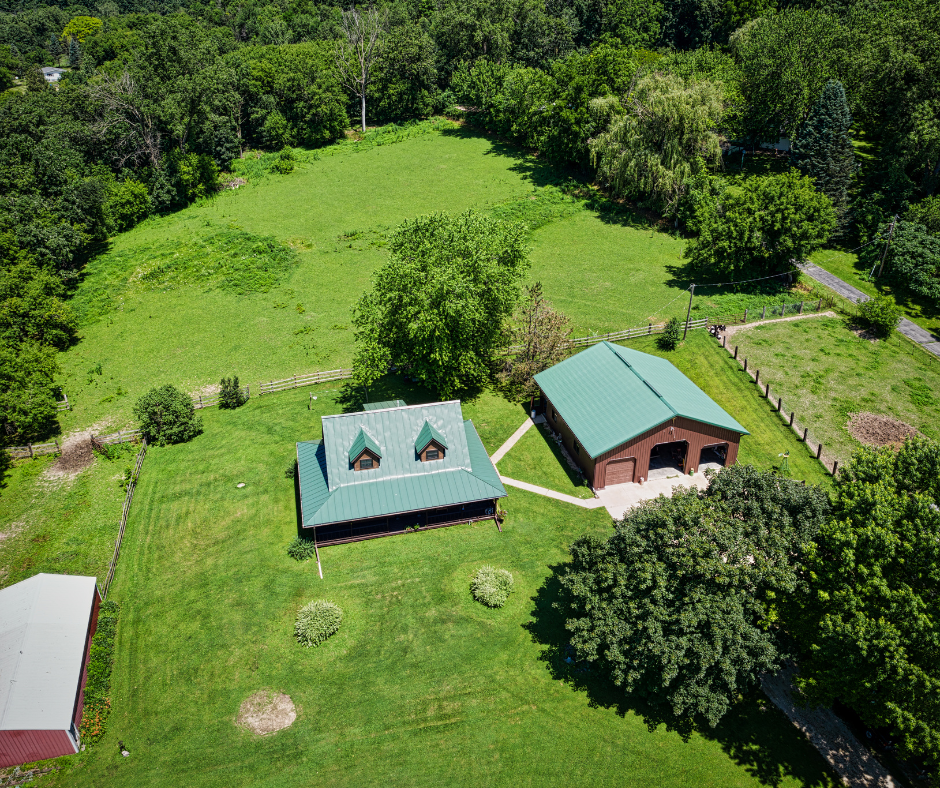 A barndominium, otherwise known as a "shouse," is a popular custom home trend that combines traditional barn or shop features with a home. The combined space makes it easy to have your living quarters, shop, storage, and garage all under one roof! This type of home is typically constructed as a pole building, using what's referred to as post-frame construction. No foundation is required, as the building is supported by poles anchored about six feet in the ground, creating a cost-effective and highly customizable space.
Before beginning the process of building a custom barndominium, there are many factors to consider. In this article, we'll discuss cost and financing for your post-frame building, what to look for when choosing a location, and how to ensure the floorplan fits your lifestyle.
Cost and Financing
A barndominium can be more cost effective than a traditional home build due to its simple structure. However, getting a conventional mortgage for a post-frame building may be a challenge. Some banks are known for financing pole buildings, and your builder may be able to point you in the right direction. Alternatively, you may consider other financing options like a personal or home equity loan.
Several factors contribute to the overall cost of your new barndominium: materials, permits, the land the home is built on, HVAC systems, labor, and even landscaping. Discuss all your options with the builder before the process begins to solidify your budget, and include some breathing room for unexpected costs. Keep in mind that the cost of building materials has increased 5-10% this year due to continued shortages and supply chain disruptions.
While barndominiums are typically constructed relatively quickly, remember that supply chains are still catching up to demand after the disruptions of the last few years. It could take quite some time to receive all the building materials you need for your new home, so factor this into your timeline when selling your current home and planning your move.
Land and Location
Before you can build your new home, you need to purchase the land it will sit on. It's important to think about a number of variables when choosing land. Consider the current condition of the lot and what work will be needed to prepare it for building. For example, is it already flat, or does it have steep slopes that will need to be leveled? Is the land wet or dry? What type of land you're building on can impact the type of materials that will be best to use and how long it will take to finish the structure.
You will also need to look into your city or county's building restrictions, such as snow load and setback requirements. Check with your local planning and zoning office to ensure you have everything in place, such as necessary plans, insurance, and permits, before breaking ground.
Lifestyle and Floorplan
Working with your builder to design your barndominium can be a fun process. It's important to consider how your lifestyle should impact each component of your new home. Start by thinking of what you would change about your current home. For example, do you love your closed floor plan or would you prefer an open concept? Don't forget to consider what you think your life will look like in 10–15 years: will you need extra bedrooms, bathrooms, or an office? Should your new barndominium be build on one floor for accessibility or two to create more living space on a smaller footprint?
A major perk of a barndominium is its ability to provide space for both work and living. Consider how you would use your garage. Will it be just for car storage, or will you be spending time there? Do you want it heated and cooled like the rest of the home? Do you want to expand it to include a hobby or "she shed" space?
A barndominium is an extremely versatile structure that can accommodate just about any aspect of your dream home. To get it done right, partner with a builder who has experience designing pole buildings for multiple uses. Working with an experienced post-frame construction builder like Pro-Line can help you avoid unexpected hurdles to moving into your dream home.


For more information on building a dream home barndominium, subscribe to our blog today.