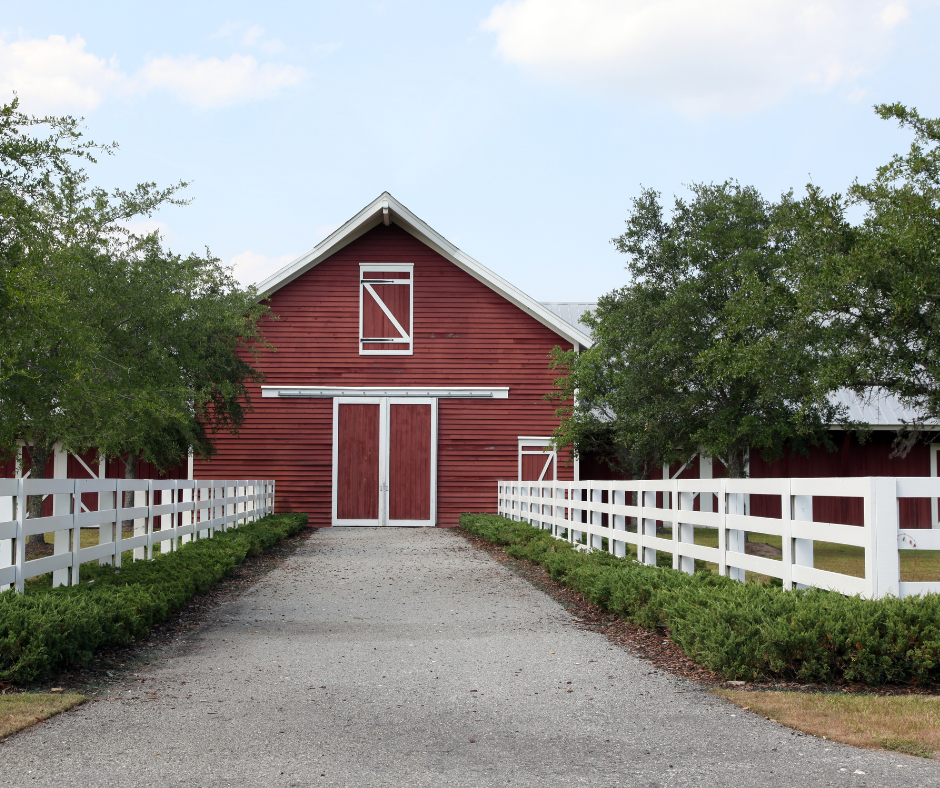 Pole barns, also called post-frame buildings, have been used in agriculture operations for a long time. Their durability and versatility, along with a host of other benefits, allow them to be designed and used for almost anything a farmer could need, such as machinery storage, livestock housing, or a workshop. In recent years, pole buildings have become popular for other uses. For example, a modern design can turn an old storage shed into a "she shed" or even transform a barn into a custom home! Repurposing an old pole building can be a fantastic (and cost-saving) alternative to constructing a brand new structure.
Main Uses for a Pole Barn
Agriculture/Commercial
The agriculture industry has utilized post-frame construction for so long because it allows farmers to prioritize functionality while keeping costs down. These structures have a wood frame that doesn't require a foundation; the building's posts are anchored about four to six feet into the ground instead. Pole buildings are typically used on a farm for utility buildings, machine sheds, workshops, storage, and livestock barns. Commercially, post-frame construction has been used for big office spaces and restaurants because they can be built quickly without sacrificing quality and durability.
She Sheds and Man Caves
Outside of business and agriculture, homeowners can use post-frame construction in their own backyards. If you and your spouse have different interests and hobbies but no space in your house to pursue them, a hobby space is the perfect solution. A she shed or man cave can be a functional space with the extra square footage you need to dedicate to hobbies, relaxation, or your side hustle. If you want a home theater or a guest suite for when you have out of towners come to visit, this would be the perfect structure.
Custom Homes
You can build a beautiful custom home—without that cookie-cutter feel—by choosing post-frame construction. To optimize the floor plan, you can combine your home and workspace to create a "shouse." The design can flow smoothly from the living space into the workspace without sacrificing aesthetics, providing a degree of flexibility not available in traditional home construction. A shouse, which is sometimes called a barndominium, gives you the best of both worlds. You get a beautiful home customized to your taste and style and a dedicated workspace or shop all in one structure. There are several benefits to a shouse, including energy-efficiency and the ability to maximize storage space, and you might even be able to eliminate your commute. A beautiful wrap-around porch or an attached garage could further enhance the functionality of your home.
The Cost of Expansion
Renovating or constructing an addition to your pole building can save you money over traditional building methods. Fewer materials and less time spent during construction means you can enjoy your new addition sooner and spend less money throughout the process. If this expansion is for your business, it could also mean a faster return on your investment.
A pole building leaves a lighter footprint on the environment, which can save you money as well as help keep our planet healthy. Since there is no foundation, post-frame construction doesn't disturb the building site as much as its traditional counterpart. Columns and wall girts are placed much further apart in post-frame construction, allowing for more effective insulation. This results in lower energy consumption and energy bills.
Subscribe to our blog for more information on post-frame construction. Get started on creatively expanding your pole buildings with the help of our experienced professionals today!