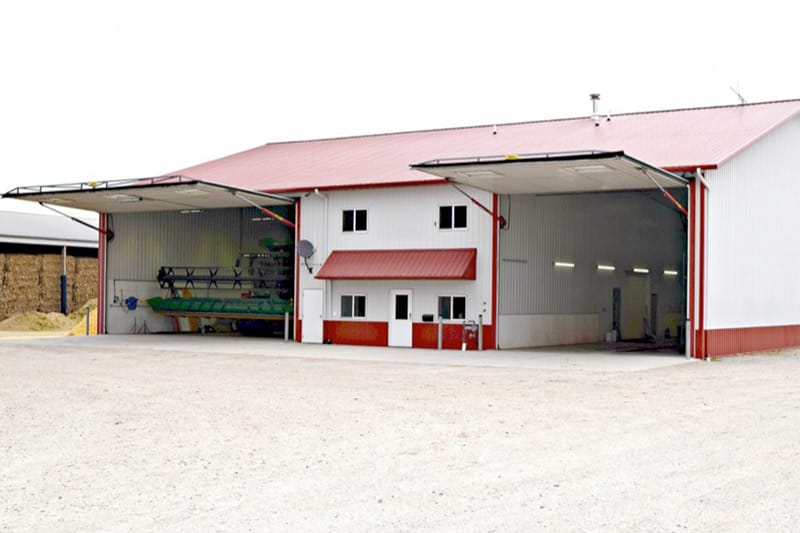 Pole barns offer many advantages such as durability and versatility, but often overlooked is their remarkable energy efficiency. Installing the correct windows and doors is critical for increasing the building's energy efficiency and capturing dramatic savings over time. This article will review how to find the best windows and doors to keep your pole barn as energy efficient as possible.
Windows
Windows that are the wrong design or poorly installed can greatly diminish the building's energy efficiency. The glazing system and frame materials are both key components to consider when purchasing and installing energy-efficient windows.
Some glass systems block infrared light to allow in sunlight without increasing the building's temperature. For example, solar control window film applied to the interior of the windows deflects up to 80% of the sun's heat, making it easier to cool the barn while allowing in sunlight.
Additionally, the material used for the windows frames are particularly important for energy efficiency. Pole barns will naturally will often have more air gaps and, consequently, more air inflow and more frost during the winter. Aluminum frames are ideal because they better withstand water penetration and provide more structural strength than vinyl. Additionally, many aluminum frames incorporate a thermal break in their design, separating the inside from the outside of the frame, preventing low temperatures from transferring through the frame.
Doors
Pole barns can accommodate several different types of doors for a wide variety of uses. Traditional sliding barn doors have become far easier to use given updated and lighter hardware. These doors can accommodate large equipment but must be opened and closed manually, making them ideal for buildings without a large amount of traffic. However, sliding doors are not insulated and do not seal the building, making temperature control particularly difficult.
Overhead doors, on the other hand, can be operated remotely, making them much more convenient for buildings with frequent traffic. Additionally, overhead doors are sealed and can be insulated, protecting the equipment inside from the elements and making the building far more energy efficient. While overhead doors are more convenient, they also generally cost more to install and require repairs as they age.
Finally, hydraulic doors are ideal for extremely large equipment such as aircraft or large tractors. Since they are designed to open outward, the building retains more storage space inside. Additionally, hydraulic doors are easy to insulate.
A Trusted Partner
To help consumers find the most energy-efficient windows, fenestration standards are produced by organizations such as the AAMA, ASTM, and the NFRC. Consulting a trusted construction company with years of expertise is the most reliable way to ensure that your building adheres to fenestration standards and fits your needs. The professionals at Pro-Line bring years of experience building post-frame buildings in the Des Moines area and can help you select the best doors and frames for your building needs. Contact Pro-Line today to learn more about how to make your vision a reality.