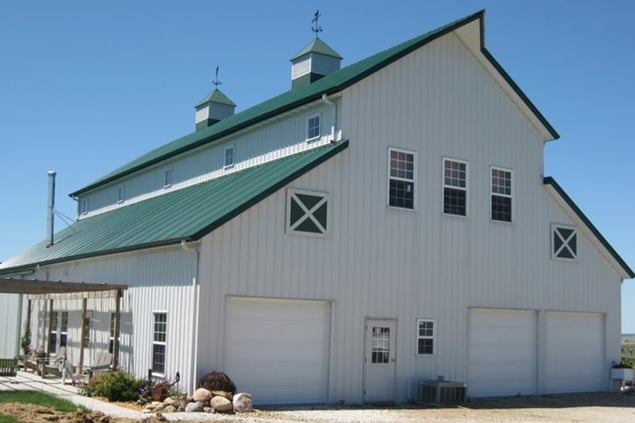 Agricultural buildings have evolved over the years. Historically, farm buildings have served as storage facilities for livestock, crops, or machinery. Early farm buildings were small, simple structures with the sole purpose of protecting what was inside from the elements or theft. Initially built with a mix of dirt, stone, and wood, they were intentionally generic, meaning that they served no particular purpose. The structure simply housed whatever it needed to. However, this made it difficult to properly maintain equipment or care for livestock, since the building was primarily a very simple shelter. Later buildings were constructed primarily of wood and designed for specific uses, such as dairy barns, corn cribs, equipment sheds, smoke houses, and equine barns.
Benefits of Modern Agricultural Buildings
Agricultural buildings have evolved and grown in size as farms have expanded and technology advanced. They are now commonly constructed with poles and metal in a process called post-frame construction. This type of construction allows for almost endless customization to suit any purpose on any agricultural operation and is stable enough to withstand the elements for many years to come.
Versatility
Agricultural buildings are becoming more versatile as needs change. Rather than just housing livestock or storing items, agricultural buildings can be insulated and heated to serve multiple purposes, such as office spaces, workshops, or in some cases, even living spaces.
Aesthetics
Modern agricultural buildings can be designed to suit any style or aesthetic, which means you can say goodbye to the traditional red barn if you want! The metal buildings can be finished in stone or other materials for a customized exterior look.
Value
If you have an agricultural operation, you know that any new building will require a substantial investment in both money and energy. Today's agricultural buildings provide value to your operation in several ways:
They are more durable and flexible than traditional buildings and can be constructed to help prolong the life of machinery, livestock, and whatever else is stored inside.

Post-frame construction can cost effectively produce buildings of any size needed, allowing you to accommodate even the largest farm machinery.

Post-frame buildings can be engineered to meet all construction codes and withstand high winds, heavy rain or snow, earthquakes, fires, lightning, and other forces of nature.

Post-frame buildings require less maintenance than more traditional farm buildings and can be built to maximize energy efficiency.
Energy Efficiency
Tips for Agricultural Buildings
Modern agricultural buildings can be constructed with energy efficiency in mind. Sustainable design concepts like these can optimize functionality and efficiency:
Daylighting is the reliance on natural light instead of electricity during the day. Proper window placement lets you reduce electricity usage by making optimal use of natural light.

Installing energy-efficient windows reduces heat loss, reducing the need for heat or cooling. When searching for windows, look for an ENERGY STAR sticker, or one with insulation.

Utilize rainwater harvesting systems to conserve water. This system diverts rainwater from the roof of the building and stores it for later use for things like landscape irrigation or even toilet flushing.

Install permeable floors to allow natural drainage. This porous flooring option allows water to pass directly through into the ground.

Use wind turbine energy to generate electricity. Since wind is plentiful, and this type of energy system relies on the sun, it is a sustainable resource as long as the sun continues to heat the planet.

Insulation protects buildings from extreme temperatures and moisture, increasing their lifespan and helping reduce energy costs.
Something else to consider when creating an energy efficient agricultural building is installing in-floor heating. This radiant heating system is located in the floor and supplies heat directly from this warm surface to the people or objects in the room. The heat generated naturally rises, which warms the air evenly throughout the entire space. It is also much more efficient than other heating systems, like forced-air, because it doesn't experience any duct loss.
Planning and Construction Tips
Before constructing a new agricultural building, it is important to first understand any applicable building permits and zoning regulations. A professional contractor with experience in the agriculture industry can help you navigate the paperwork required before construction can begin. Your chosen builder will then help you through the building process, guiding decision-making to meet your goals and priorities. This includes selecting the right materials and layout, including floor elevations, locations and dimensions of doorways and windows, and optimizing storage capacity. This part of the planning process is when you will be heavily involved; after all, it's your building and needs to suit your purposes!
Once the plan is finalized, you will be able to step back and let the construction crew do the heavy lifting. The construction team will prepare the site, ensuring the ground is level and vegetation is cleared away as needed. Once the site is ready, construction will begin, and your modern agriculture building will quickly become a reality.
If you are interested in renovating your existing agricultural buildings or investing in a new custom structure, the professionals at Pro-Line can help! Our builders have extensive experience in the agriculture industry and know how to design an effective solution for your goals and needs.
Learn more about modern agricultural buildings; subscribe to our blog today!